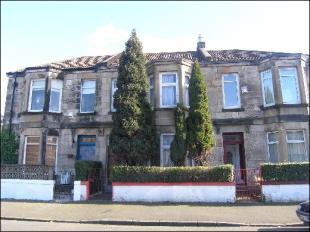 The house next-door? Not sold yet. However, we're living in interesting times. The house is to be auctioned in a fortnight's time. There was a viewing on Saturday - for just ten minutes. Several couples turned up to look round. Meanwhile, my neighbours and I were in that house before you could say "Jack Robinson", and what a scene of desolation we saw!
The "offers over" price reflects what the auctioneers describe as "internal upgrading required". That's a gross understatement! There's damp. There are stains. There's a sagging bathroom floor and bulging kitchen ceiling. Two massive trees obscuring all light in the front room downstairs. Two massive trees ditto in the back yard. God knows where the roots go - but the whole place needs a massive injection of cash to bring it up to scratch. We had no idea that the house in between our own comfortable, renovated properties, was so horrifically awful. Good luck to whoever takes it on - it will be a major project. But worth the effort, as our own homes prove.
I have to say that when we bought our house, it needed improvement - but nothing like as much as next-door does. Shudder!
Pseudo-Supermum is off work tomorrow. I have to be - there's a strike causing Cello Boy's school and halls of residence to be closed. So, he and I are going to be good students together at home. There was a half-baked plan for him to meet up with friends and mooch around the west end together. (We've never allowed this before, so it had novelty value.) Too much novelty value, as it transpired - one of the other conspirators decided against it, and the mother of a third put a veto on it altogether...
The new, alternative plan, involves renting a DVD and watching it at home. Probably a more sensible idea, really!