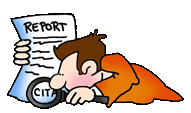 Bibliographing,
that's what I've been doing.
Listen up, folks! I've written seven chapters, compiled my appendices, compiled and formatted my bibliography, formatted ALL my footnotes!, and revised the first two chapters.
Now I'm waiting for feedback from my supervisor so that I can revise the other five chapters. I want to submit my thesis by 31 May, so this is really rather urgent!
However, tonight, I have a special treat in store. Going through the bibliography, I noted a few references that I ought to revisit, in case there's anything I need to mention in my thesis. Heavens, some actual reading again? Now, that does make a change!